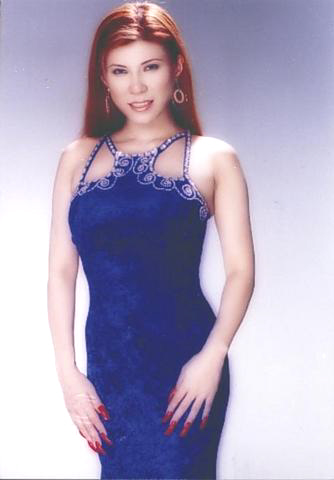 MYSTICA - BAD AS BADUY (LOWBROW) CAN BE?
Tell Mystica she's baduy, bold, brazen, and bakya, and she'd be so elated she's probably execute a "split" or two, the very reason why some folks dismiss her as a carnival act.

It's a description she relishes, she says "Inuunahan ko na sila (I beat them to the punch), she says proudly, recalling how once, when invited to a senator's party, she marveled at the ritzy grounds and exclaimed, "Wow! Akala ko pang-peryahan lang ako! (I thought I'm only good for the circus.)"

All cleavage, lace stockings, tassels and boots, Mystica gives the dominatrix image a new spin. The woman not only dominates the scene, she emasculates it. With her suggestive glances and tongue thrusts, lap dancing, acrobatics and splits, the singer of the naughty hit "Simple Lang" can heat up a noontime show and give it what some scandalized viewers describe as a beerhouse ambience. "Bawdy" is how other detractors diss her, while the manangs (old-fashioned women), Mystica herself admits, call her immoral.
Who can blame them? Discretion is not the strongest suit of this Whitney Houston wannabe who ended up as the female version of April Boy Regino. Except for her age which Mystica adamantly refuses to divulge ("19, as in nineteen-dihan na nila yun"), nothing seems sacrosanct.
It is such propensity for trouble, not to mention the salacious and sensational, that makes her very acceptable to the masa (ordinary people), says Mystica. "Kaya nila akong abutin (I'm very accessible to them". Like a trooper, she allows herself "to flow with the show". She's a real crowd pleaser, she says. "Nakikiride-on ako. Kung gusto nila, pinapahaplos ko pa ang breasts ko. Pero katuwaan lang. Walang malisya!" Filipinos, she notes, appreciate a shade of sexuality in their entertainment. "Through me, lumalabas yung repressed sexuality nila. Sometimes, it's the women themselves who urge me to take their husbands to the stage and flirt with them."
Despite impressions to the contrary, Mystica rates her appeal as "Hindi lang pang-men, pang-general patronage pa", she deadpans. "Kenkay kasi ako (I'm funny) so my appeal extends to the young and old. And I have these too, she adds, tweaking her modified pigtails, for the kids to identify with."
BY PENNIE

THE PHILIPPINE INQUIRER

MAY 21, 2001